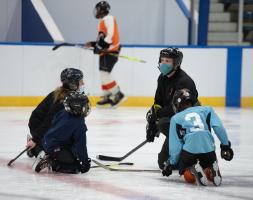 Holiday Auction Benefiting Snider Hockey
Snider Hockey is hosting an online auction open from November 17 through December 4 at 11:59 pm EST.
Complete your holiday shopping from the safety of your home AND support Snider Hockey by browsing our auction! We're featuring unique gifts and experiences for everyone on your list.
Your bid will support Snider Hockey's youth hockey, education, life skills, and post-secondary programming for 1,500 students in Philadelphia and Camden counties. Your support is needed now more than ever. By supporting Snider Hockey's auction, ensure under-resourced youth have a safe space to lean on, access to mentorship advice and enriching development opportunities.
About Snider Hockey:
This online auction benefits the Ed Snider Youth Hockey Foundation. Snider Hockey is a nationally acclaimed non-profit that uses the sport of hockey to educate and empower under- resourced youth of Philadelphia to prosper in the game of life. Evidence-based outcomes are young citizens who:
Achieve academic success as they matriculate from Crayons through College;
Consistently make healthy and thoughtful life choices;
Serve as positive role models to the next generation of Snider Hockey student-athletes;
Realize gainful and rewarding employment; and
Give back to their community
All programs ? athletics (including equipment, coaching and travel), academics, secondary and post-secondary preparation, life skills, health, nutrition, leadership, and civics are offered at no cost to participants ? all of whom reside in the cities of Philadelphia or Camden.