Donate Cash
Auction Links
Top Bidders
dc1cd2b9c

$2,446

kr50373bd

$1,600

anf610921

$1,025

chd7cbd61

$285

sb7beb4e4

$260

lr10d68b3

$155

th55fbbd3

$85

knf6059a8

$85

waltgf13

$84

mh0d8464c

$80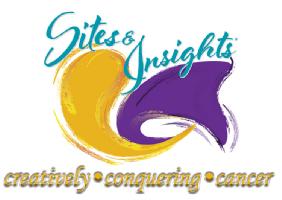 The Online Auction is CLOSED
THANK YOU TO ALL WHO PARTICIPATED
The Sites and Insights Virtual Auction is now open. The auction will run thru June 13, 2021. Proceeds going to Sites and Insights to provide a creative and unique way to transform lives using Color, Art and Mindful Healing Programs for Cancer Patients/Survivors and Caregivers to help process this Life-Changing Experience.
Auction items range from exotic vacation getaways to donated items guaranteed to delight and surprise. So, tell your friends, family, community. Let the bidding begin!
WHY WE DO WHAT WE DO
Research has shown the benefit and curative value of using therapeutic art and color as a way of dealing with disease, stress, grief and fear. Sites and Insights® offers workshops, retreats, and various programs that guide the participants in a safe and comfortable environment using art-expression to self-discovery and emotional understanding. Using a copyrighted curriculum, the facilitators incorporate different art modalities and mindfulness techniques.
Our workshops, classes and retreats are solely funded through donations which allows us to offer our programs at no charge to our participants.
For more information on how you can change the life of a cancer patient, survivor and caregiver, check out or website at www.sitesandinsights.org.
Sites and Insights, Inc.® is a 501(c)3 nonprofit.