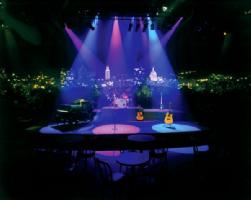 Austin City Limits Backdrop Auction
At 10:00 a.m. Monday, July 12th Austin PBS, KLRU-TV will be auctioning panels from the historic Studio 6A Backdrop. The historic Studio 6A and its iconic backdrop was home to 36 years of Austin City Limits concerts, hosting musical greats like Willie Nelson and the Foo Fighters. Austin City Limits is the longest-running music series in television history and remains the only TV series to ever be awarded the National Medal of Arts. Since its inception, the groundbreaking music series has become an institution that's helped secure Austin's reputation as the Live Music Capital of the World.
Money raised from this auction will support Austin PBS as the station moves forward to a new home and a new generation of public media with greater community impact.
The Studio 6A Backdrop consists of 20 panels that will each be a separate item up for auction. Bid on one or all 20! These panels have served as the backdrop to every episode of Austin City Limits from Season 7 (1982) through Season 36 (2010-2011). Images and dimensions of each panel will be included in the item description. Bidding will end on Thursday, July 22nd at 10 a.m.
Please Note: The "ACL Skyline Backdrop" image (the "Image") is a copyrighted work of The Capital of Texas Public Telecommunications Council. The purchase of any or all panels embodying all or a portion of the Image does not grant any license to or assignment of the Image, in whole or in part, and The Capital of Texas Public Telecommunications Council remains the sole owner of all rights in and to the Image.