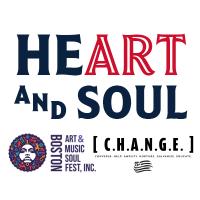 HeART & Soul Auction
As part of the club's ongoing C.H.A.N.G.E. initiative, the New England Revolution have teamed up with Boston Art & Music Soul (BAMS) Fest for HeART & Soul, a one-of-a-kind soccer ball art auction. Local BAMS Fest affiliated artists collaborated with Revolution players to design and create hand-painted soccer balls based off hobbies, interests, causes and more.
About BAMS Fest
Boston Art & Music Soul (BAMS) Fest is a 501(c)(3) nonprofit organization that breaks down racial and social barriers to arts, music, and culture across Greater Boston. Most importantly, BAMS Fest is a cultural movement led by Black and Brown creative entrepreneurs, culture-makers and community thought leaders, who are on the front lines of racial equity, spatial justice, and economic empowerment.
Founded in 2015 by Boston native, Catherine T. Morris, she is a mother, entrepreneur, and visionary, who has spent the last 20 years, producing shows, as well as mobilizing and engaging local audiences to experience the arts from a Black perspective. Since its inception, BAMS Fest has employed, supported and presented more than 400 local artists, provided more than 350 jobs to creative entrepreneurs, activated dozens of public spaces and has attracted over 12,000 attendees to their programs.
BAMS Fest envisions a vibrant and inclusive arts and culture sector for the city of Boston and beyond, which celebrates all artistic talents, challenges societal perceptions, and empowers and engages audiences. We recognize and elevate the depth of talent that exists in Boston?s arts ecosystem, encompassing all art forms and disciplines.
To this end, we strive to engage with three separate, but related, constituencies: artists, audiences, City of Boston.