Donate Cash
Auction Links
Top Bidders
sjf2316ee

$1,900

jp78b8f98

$1,200

sk4cf3754

$700
Original works of Baltimore's gilded-era
Mount Vernon Place.
The auction is now closed.
Thank you so much for everyone who participated in this year's art show and auction. We are very happy with how this year's event went. We look forward to returning to an in-person show next fall.
This year, twelve artists from the Mid-Atlantic Plein Air Painters Association (MAPAPA) were invited to paint some of Mount Vernon Place's beautiful interiors, including views from inside the Walters Art Museum, the Garrett-Jacobs Mansion, the Peabody Institute, and other historic gems.
Featured Artists:
Lissa Abrams

Bruno Baran

Ann Crostic

Laurie DeMatteo

Janice Kirsh

Kathleen Kotarba

Michael Kotarba

Lisa Mitchell

Crystal Moll

Tom Ritchie

David Wiesand

Karen Winston-Levin
Proceeds and donations benefited Baltimore Heritage, the Garrett-Jacobs Endowment Fund, the Mount Vernon Place Conservancy, and most importantly, the artists.
Winners of the Best in Show and People's Choice awards: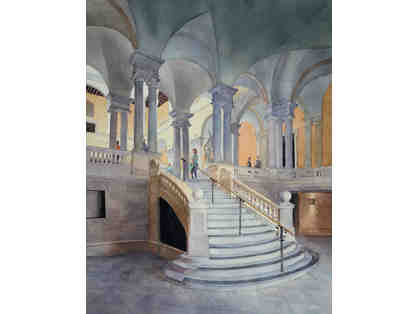 BEST IN SHOW: "Currently on View" by Michael Kotarba
PEOPLE'S CHOICE: "Check-In" by Tom Ritchie