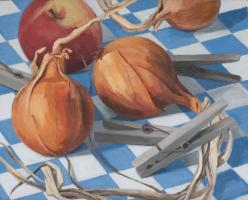 Exhibit and Auction End October 30
SUNDAY PICKUPS, OCTOBER 31
The main library area is closed on Sundays, but PICKUPS ARE HAPPENING 10-1 THIS SUNDAY, 10/31. Just come to the meeting room.
SUPPORT BOXBOROUGH AND HONOR BUCKY!
The auction closes next Saturday, October 30. Don't forget to place your final bids!
Remember, the "opening bid" is preset as a reasonable starting point by the Bidding for Good format. But this is not a required amount; you can offer whatever you want. You might acquire a treasure for a trifling bid.
Who is Bucky and what is this exhibit?
Bucky Weaver (see "About Bucky" below) was a longtime resident of Boxborough, well known for his overflowing gardens and prize-winning vegetables. However, most neighbors did not know he was also a skilled and prolific painter. He left behind an impressive archive of more than 300 paintings. Bucky painted many landscapes, often of his own yard or garden in Andover and later Boxborough. He also painted a variety of still lifes, and is famous among friends for his onion series, where alliums and apples might pose with mugs, vases, and clothespins, all nestled on checked dishtowels. He elevated everyday objects to objets d'art, exploring their textures, shapes, shadows, colors, and significance through different compositions. You will never look at a clothespin the same way again.
Only a portion of Bucky's archive can be shown in the exhibit, but in these selections you can see the evolution of his skills and his experimentation with various tools and techniques.
Some of these works will be displayed at the meeting room in the Sargent Memorial Library, October 2-30, and more can be viewed online. A "silent auction" will be held October 4-30 (note this starts two days after the exhibit opens, and bidding won't be activated until that time) via Bidding for Good, an easy-to-use, secure platform for charitable auctions that enables people to participate over a period of time rather than just one day. You can browse all paintings via this site, both those at the library and others that are online only, and place bids anytime during this period.
What charities benefit from the auction?
Proceeds from the auction benefit two local entities that were very important to Bucky: the library, through the Sargent Memorial Library Foundation, and the Boxborough Conservation Trust, a volunteer organization dedicated to protecting Boxborough's rural character and natural resources. Both groups are 501(c)(3) charities. Winning bids are fully tax-deductible donations.
How do I participate?
Click View All Items to scroll through all the paintings. Descriptions of those displayed at the library will contain the line "See me at the library." Click on an individual item to see more information (or, if you know the number, enter it in the Search box). The brief description of each painting includes approximate dimensions and the material (C = canvas; B = board,

such

as masonite). If an item is framed, that is noted (most are not, though stretched canvas does not require a frame). Paintings are listed in order by an assigned number. This will not be a complete sequence, as not all 300 paintings are shown. The number of each painting displayed at the library will be posted next to it.
To open an account, click on Register to Bid (at the top of the page). You will get a login email and password that you'll use to sign in. You must supply credit card information to register, but there are no charges unless you are the top bidder at the end of the auction.
If you want to flag items for later consideration, once you have opened an account, click on Add to My Items.
If you want to place a bid, click on How to Bid and follow the prompts. The opening bid is preset at a third of the estimated value. (For example, if an item is valued at $300, the suggesting opening bid would be $100.) But you do not have to bid this amount! You can start out lower if you want, though others may outbid you.
You will receive an email or text notification if someone tops your offer so you can consider raising your bid.
Click Refer Friends if you know of others who would like to view the exhibit and/or participate in the auction. (Be aware, though, that paintings cannot be shipped; any out-of-town bidders might need a local contact who can pick up a painting.)
Note that you will not see the same homepage on a phone; to preserve bandwidth for live auction events, a bare-bones version is the default. (However, you can toggle to the "real" version if you scroll to the bottom of the screen and click on "View standard version of site.")
What happens when the auction closes?
Each painting will be awarded to the highest bidder after the auction closes on Saturday, October 30. This might take a day as each credit card transaction is approved individually. The winning bid will be processed through Panorama Global Fund (tax ID 26-3265577), a 501(c)3 nonprofit organization, which will send the donation to SARGENT MEMORIAL LIBRARY FOUNDATION INC (tax ID 113677412) on behalf of the winner. The foundation will then share the proceeds equally with the BOXBOROUGH CONSERVATION TRUST. (The library foundation serves as the conduit for all donations as the Bidding for Good platform supports only one charity per event.)
Email notifications will be sent to the winning bidders and will include pickup information. This email will serve as your receipt.
When can I pick up my painting after the event?
The last day of the exhibit is Saturday, October 30, and pickups will take place at the library during the following week. The library is not normally open on Sundays, but the meeting room will be open for pickups on Sunday, October 31, from 10 a.m. to 1 p.m. The second pickup date is Saturday, November 6, 11 a.m.-1 p.m. (Originally we planned a Wednesday eve option, but that proved unnecessary.) If you are unable to make either of these pickup times, please contact Sarah Weaver at sarah.weaver@comcast.net. Please be aware that we cannot ship paintings. Bidders must be able to pick up paintings at the library or send an emissary to do so.
Paintings will be organized by their number, so BE SURE TO NOTE THE NUMBER OF THE PAINTING YOU BID ON! It's part of the item name.
We do not have packing supplies. Please bring any material necessary to cushion your painting (e.g., cardboard) and/or protect it from the elements if it is rainy (e.g., large plastic bag).
ABOUT BUCKY
Bucky Weaver, a resident of Boxborough since 1997, lost a fight with lung cancer on December 6, 2020, just days before his seventieth birthday. Often described as a "true gentleman," he charmed colleagues, friends, and neighbors with his kind and humble spirit.
Though born in New Haven, CT, Bucky spent most of his childhood in Mississippi and Alabama, where his father was a professor of philosophy and religion. He graduated from Indian Springs School in 1968 and from Williams College in 1972. In 1981 he earned a BFA in painting from Mass College of Art and Design.
Bucky found a niche for his artistic bent at the New England Document Conservation Center in Andover, MA, where he worked as a conservator for more than thirty years. There he helped preserve paper-based collections that included everything from historical documents and maps to photographs, money, and even wallpaper. He applied the same precision and meticulous planning to his garden, mapping it out on graph paper and recording every planting and harvest, every soil test and augmentation.
In retirement, Bucky was able to devote more time to his garden and to artistic pursuits. Bucky was a familiar sight in his yard, where he spent countless hours producing blue-ribbon vegetables. He was a passionate and generous gardener, often bringing pounds of produce to the food pantry and to neighbors. He served as a judge at the Harvest Fair. But many acquaintances did not know he was also an accomplished painter and potter. Many of his paintings can be seen at the library and on the auction site. Bid on a Bucky and support Boxborough!
Browse all items and pick your favorites!