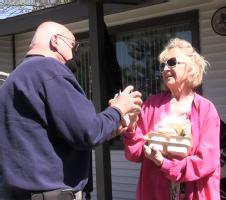 The Online Auction is Open!
Our Birthday Bash Auction is open! We got some incredible items up for bid to celebration our 42nd year of providing seniors across Spokane County with nutrition, dignity, and a warm smile.
If you are looking for holiday gifts, home decor, or something that just reminds a friend you care, we have dozens of packages ready for you to give. Items for Halloween, Christmas, pets, newlyweds, students and something just for you, are all here.
This auction runs from October 1st through the 11th. Don't miss you chance to get a great deal but you also help provide food, personal items, shelf stable foods, transportation, warm blankets and connections to agencies across Spokane County to one of the seniors living in your neighborhood.
Please tell your friends!
Make Your Bid to Support Seniors Across Spokane County!
Find that perfect present and know you helped an elderly neighbor stay in the home they love!