Auction Links
Top Bidders
vs8b2b53d

$1,814

LRossetti

$999

Hawk55

$502

tanzaloon

$329

buddykristine

$305

glf05bafe

$282

vwlover

$279

CACRPLLC

$258

cka62edf2

$238

rd1c67db9

$235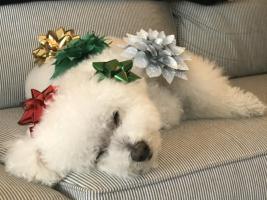 Photo credit: Tammy Preast
Small Paws Rescue Inc.®
The auction is now CLOSED.
Thank you for your support!
Starting October 31, 2021, Small Paws Rescue Inc.® will be auctioning off a number of fun and unique items to bid on to raise money for our organization - and the more items we have the more money we can raise, so we're asking for your help.

Show your support by clicking on the "Donate Items" button to contribute to our catalog.

Give a little and get a lot in return!

Whether you have 1 item or 100 to contribute, your participation is an invaluable part of our fundraising efforts.
By donating an item or service directly online, you'll be helping to raise money for our organization.
We are ready to accept your items for donation.
We and the Bichons thank you in advance!
We are in need of quality items to add to our Holiday Catalog.
If you have anything from Rare Collectables to Home Decor, Christmas Items, Jewelry or Doggie Items - now is the time to make your donations!
**VERY IMPORTANT. PLEASE READ**
Due to last years excessive shipping charges to outside of the country, bidding is open to U.S. residents only.

Due to national shipping shortages this year, donors will be responsible for shipping their items to winning bidders within ONE WEEK of the auction closing. This insures that your wonderful items are received in time for gift giving!

Donors will be notified via email shipping information of winning bidders.

Shipping information for winning bidders is obtained through their Bidding For Good account.

Please check your Bidding For Good account to make sure we have your updated/correct shipping address.