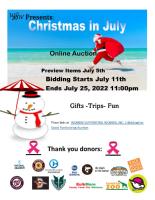 WOMEN SUPPORTING WOMEN, INC. is getting ready to run an online auction fundraiser.
S Item preview begins July 5, 2022 bidding starts on July 11, 2022,
WOMEN SUPPORTING WOMEN, INC. will be auctioning off a number of fun and unique items to bid on to raise money for our organization.
It is never to early to start shopping for Christmas. We are happy to provide many different items for you to bid on during our first ever "WSW Christmas in July" auction.
Bid on a gift for a friend or family member or somenthing for yourself.
Need to get away check out our trips for couples, a group of 4 or a Disney trip for 6 at a luxury resort. Tons of family adventures to keep the kids from getting bored. Along with gift cards to do a little shopping and eating.
You'll find something for those on your hard to buy for list.
All funding raised during this event helps our organization to continue to strive to meet our mission to provide awareness, education, and support to all those who are affected by breast cancer. Funding from this event also helps keep all of our organization?s unique services FREE of charge. Remember, all funding from this event stays local.
Thank you to the following for your donations:
Adventure Park USA-https://adventureparkusa.com/
Best Western Chesapeake Bay North Inn -https://www.bestwestern.com/en_US/book/hotel-rooms.21048.html?iata=00171890&ssob=BLBWI0003G&cid=BLBWI0003G:yext:website:21048
BulkMore -http://bulkmore.com/
Clearwater Marine Aquarium-https://www.cmaquarium.org/
Delmarva Shorebirds- https://www.milb.com/delmarva/
Hog Neck Golf Course- https://www.hogneck.com/
Kings Dominion & Soak City-https://www.kingsdominion.com/
LuxGive-https://luxgive.com/
National Aquarium -https://aqua.org/
Nutters Crossing - https://nutterscrossing.com/
Plumpton Park Zoo - https://plumptonparkzoo.org/
Rack Room Shoes- https://www.rackroomshoes.com/
Shark on the Harbor: https://ocshark.com/#home
Urban Air Adventure Park -https://www.urbanair.com/maryland-frederick/
Washington Nationals- https://www.mlb.com/nationals
Women Supporting Women's mission is to provide awareness, education and support to all those who are affected by breast cancer.
Since 1993, WSW has focused solely on providing excellent, compassionate, and knowledgeable support to LOCAL breast cancer survivors and their families and 100% of all our efforts go toward our FREE services. All funding stays on the Delmarva Peninsula. We are a 501c3 organization.
WSW is not affiliated with any national organization, so the monies raised stay on the Shore to help our neighbors, friends, and families. Besides free services, WSW provides friendship, support, and hope. It is only through community partnerships that we are able to continue to provide all of our services free to breast cancer survivors and their loved ones.