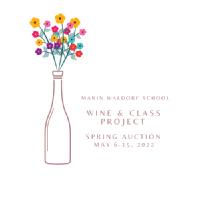 MARIN WALDORF SCHOOL ASSN INC is getting ready to run an online auction fundraiser.
Marin Waldorf School's online spring auction will kick off on May 6 at noon and will close on May 15 at 9pm. It will feature beautiful original class projects, as well as wine and wine-related prizes.
Help us make this a successful event by making a donation or reaching out to friends and colleagues who work in the wine industry or are wine enthusiasts for donations. Donate a bottle of wine, wine pairings, wines from the same region or country, a case of wine or even a wine experience or wine related item! And don?t forget to contact your wine club for donations as well! A link to our super easy online donation form is provided below! Additionally, you are invited to support your class teachers by volunteering to help plan & organize the amazing class projects.
Become a Sponsor
Place your company's logo on our site that links back to your own web page and you could develop new business. We can track how often your logo is viewed and clicked to see just how many people are accessing your site.