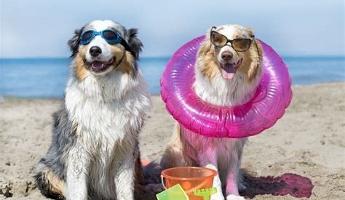 Illinois Doberman Rescue Plus presents: The Dog Days of Summer!
Starting on July 30, 2022, Illinois Doberman Rescue Plus will be auctioning off a number of fun and unique items to bid on to raise money for our organization. This event will end on August 23, 2022.
The phrase, The Dog Days of Summer, dates to the ancient Greeks. They thought the hottest days of summer came after the Dog Star Sirius rose in the night sky. This happens at the end of July through the middle to end of August. They thought that the Sun and Sirius combined their energy to increase the temperature.
We hope you enjoy this "Dog Days" Auction!
If you would like to donate an item to an upcoming event, please send us an email at: Donate@ILDobeRescue.com. Thank you for support of Illinois Doberman Rescue Plus.
Take a look at some of the GREAT items we are offering!