Donate Cash
Auction Links
Top Bidders
ngc9b37fb

$1,315

karfox

$895

ergrant

$625

sbfba83f2

$615

mm8d66830

$600

mb3144239

$550

bj1e372fa

$534

hg6c99dbf

$465

js57bb650

$415

shb160f28

$411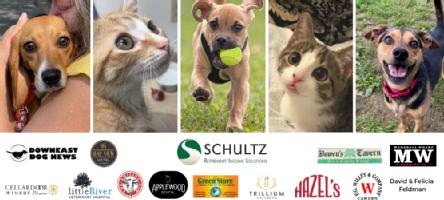 Bidding is open from Thanksgiving Day, November 24th at noon, until Sunday December 4, 2022, Midnight.
It's time for PAWS Animal Adoption Center's largest annual fundraising event of the year! The PAWS Auction for the Animals is by far the most important to our shelter, especially this year. The pandemic caused us to cancel numerous fundraisers in the interest of public safety. Your support means a world of impact to more than 1,500 animals PAWS helps each year with food, shelter, rehoming, preventative care, and many times life-saving medical attention for homeless animals in need.
Throughout the pandemic, PAWS has been there for families in need of a little extra help. We work together with other social service agencies to make sure no pet goes hungry, without medical care, or necessary supplies. We keep families together, boarding pets from households affected by domestic violence, loss of employment, or homelessness as a result of the pandemic. PAWS is and always will be there to help pets and the people who love them.
This year's auction features hundreds of amazing items from hundreds of local businesses.
Back again this year: A 50/50 Raffle!
Don't miss out on your chance to win a huge jackpot to help with your holiday shopping all while supporting homeless animals.
All proceeds benefit the amazing animals at PAWS!
Live Event Details
Thu Dec 1, 2022
5:30 PM - 8:30 PM EST
16 Bay View
16 Bay View Street, Camden, Maine 04843
Add to My Calendar
Get Directions
Nancy Schultz of Schultz Retirement Income Solutions, proudly serving the community for over 20 years, presents the 2022 PAWS Tinsel & Tails Holiday Gala & Silent Auction.
The live event is on Thursday, December 1st at 5:30pm.
Join PAWS at 16 Bay View at 5:30 PM for an evening of holiday fun to celebrate with friends.
This year's event offers complimentary wine, elegant appetizers, live music, holiday-themed games, a fund-a-cause presentation, and a silent auction with items exclusive to this event, not seen in the online auction.
Tickets are $100 and limited to just 75 individuals, so be sure to purchase them before they sell out.
BUY GALA TICKETS: https://www.pawsadoption.org/tinsel-tails-gala
This year's event is presented by Schultz Retirement Solutions.
All net proceeds benefit the animals at PAWS, providing food, shelter, community support services, preventative care, adoption, and in many cases, life-saving veterinary care and most importantly, love.
DONATE AND HELP SUPPORT PAWS IN THIS YEAR'S FUND-A-CAUSE!
This year's Fund-a-Cause is dedicated to providing quality, yet affordable, veterinary care to our community of pet owners in need.
This donation will go directly toward helping provide affordable spay/neutering programs, wellness clinics in 12 communities, and in making veterinary care available for pet owners who need a veterinarian.
Donate to the Fund-a-Cause in our online auction here or donate directly by clicking here to make your contribution today.
On behalf of the pets and pet owners we serve, we thank you for your support and caring!