Donate Cash
Auction Links
Auction Is Now Closed!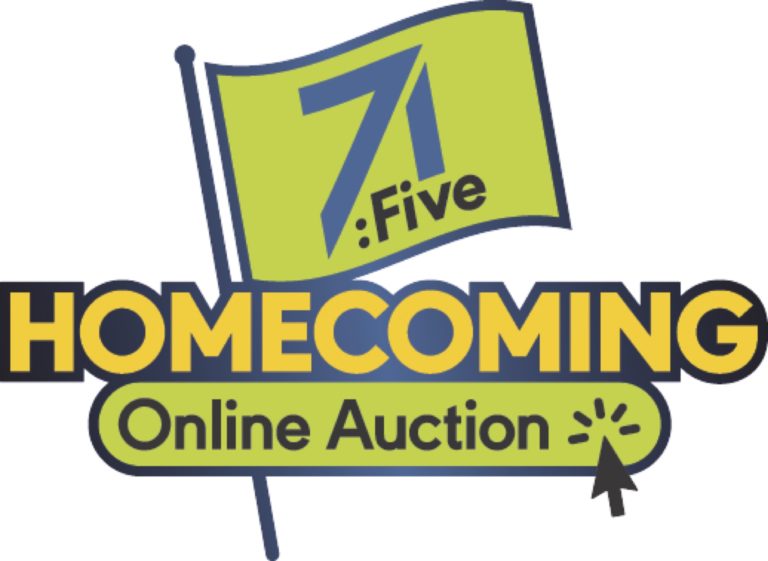 Important pick-up information:
Thank you for generously bidding on items to support youth. Below please find pick up days and times that are available. If you would like your item(s) shipped, we would be happy to do so at cost. You will be billed separately for shipping. Please contact lisa@71Five.org if you desire to have your items shipped.
Pick-up Dates & Times:
All items may be picked up at 529 Edwards Street in Medford, Oregon
WEDNESDAY, OCT. 5TH FROM 9:00 AM TO 5:30 PM
THURSDAY, OCT. 6TH FROM 9:00 AM TO 5:30 PM

FRIDAY, OCT. 7TH FROM 9:00 AM TO 5:30 PM

MONDAY, OCT. 10TH FROM 9:00 AM TO 5:00 PM

Thank you for your participation!
The 71Five Homecoming Auction is now closed. Thank you all for taking the time to point, click and bid in order to support Youth 71Five Ministries and our youth mentoring initiatives. Congratulations to everyone who:
placed a winning bid
generously donated an item for auction
invited family, friends and community
You have helped thousands of kids through your participation and generosity.
Thank You!!!

Join Us Again Next Year...
Thank You 2022 Auction Committee:
Thank You: Sharre Whitson, Lisa Stadtmiller, Misty Duke, Connor Vassallo, Darien Alvarado, and Leif Amundsen.
Thank You 2022 Auction Sponsors:
Please take the time to thank our auction sponsors who generously give to the cause... And have fun bidding on all the great items donated by our friends, business partners, and other organizations who want to help thousands of kids through 71Five's many mentoring initiatives...