Donate Cash
Auction Links
Welcome to the 7th annual Art Above Violence Auction
Buy tickets to the Art Above Violence Event:
https://givebutter.com/ArtGeneralAdmission
Rise Above Violence is auctioning off beautiful art work to raise money for our organization.
There are 3 categories of art:
1) Story Art - this is art that was created based on a survivors story that was shared with an artist to give inspiration for the art piece.
2) Gallery Art - art generously donated by artists who show and sell in galleries in the area. This art is not tied to a survivor story.
3) Youth/Community Art - this art is created by youth and community member that are not professional artists and wanted to contribute to the show. This art is not tied to a survivor story.
Please register to bid on many of the amazing pieces we have this year.
On October 1st please join us for an evening of music, food, and fun while we highlight the strength of survivors in our community. It is an evening you do not want to miss.
You can support a story this year, this is not a bid to win, but a small amount to support the courage and strength it took for the survivors to share and the time and energy that artists poured into their creation.
If a piece moves you but you can't or don't want to bid to win the piece you can still support the story.
https://www.riseaboveviolence.org/art-above-violence.html#/storyart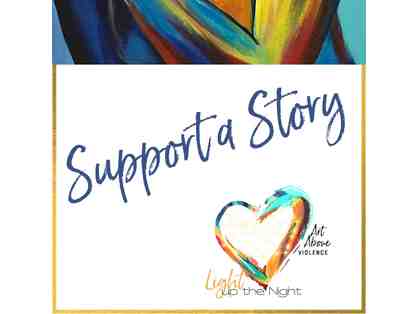 Support a Story! - support the courage and strength of the survivors who shared