Featured Sponsor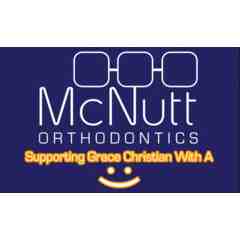 McNutt Orthodontics
Auction Links
Top Bidders
sl746faf3

$10,070

jhe204edd

$10,000

ch56efeb9

$6,066

cb9e94f73

$4,815

jh3aa0457

$3,945

kw9bec219

$3,262

jr5289cd3

$2,528

bm3a4dfd3

$2,376

sc9efa96c

$2,200

st862b609

$2,070
Thank you for supporting GRACE Christian School and bidding at the auction!
This year's auction is proudly sponsored by McNutt Orthodontics and GCS would like to thank them for their generous support of our school.
McNutt Orthodontics
GRACE Gala & Silent Auction
Comprehensive Orthodontic Treatment To A New Patient Family
Treatment is Valued at $6600
Dr. Matthew McNutt offers compassionate exceptional care and will treat your children as though they were his own. The McNutt children love being students at GCS and are excited that "dad" is supporting their school!
Visit us for a complimentary consultation and enjoy a warm and caring atmosphere and if you are lucky, you will get to meet Ripley, our in office patient mascot!
At McNutt Orthodontics we want to help you find your smile!
Visit us at: https://www.thetoothmover.com/
Thank you GRACE Christian School Business Partners!
Thank you to our GRACE Business Partners for their generous gifts to the GCS Annual Fund. Together we are fulfilling the mission to equip students to impact the world for Christ.
Please continue to support those who support GRACE by visiting their websites and choosing their business with your patronage.
Gold Business Partners
Budget Blinds
Buy & Sell with Beth Marks
Carolina Civilworks Inc.
Counterweight Private Wealth
Eco Turf
Evans Contracting Group
Hendrick Cary Auto Mall
Jay's Lawn and Landscape
Petronella Technology Group, Inc.
Dr. Kelly Ritter Orthodontics
Silver Business Partners

Atlantic Staffing Consultants

Charles Ashley Mann, DDS and Associates

Family and Cosmetic Dentistry

GoPlaySave Greater Raleigh

NC Farm Bureau Insurance - Ray Teachey

Oak & State Communications



Bronze Business Partner
The Guy's Place
Environmental Landkeepers