Donate Cash
Auction Links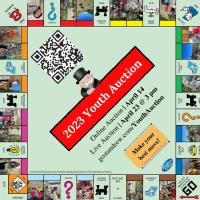 Youth Silent Auction IS LIVE!
The "Board Games: Make Your Best Move!" 2023 Silent Auction, St. Andrew UMC Youth opens for bidding on April 14, 2023 at 3:00 PM MDT Time.
The live and silent auctions help defray the cost of mission trips and the youth choir musical so that they are affordable for all youth to attend. This spring and summer, St. Andrew youth will be taking part in projects in Colorado, Wyoming, Montana, Guatemala, and Belize! In addition, a youth team will be attending a Youth 2023 Conference in Florida. We need your support! This is an exciting and fun way to help us, and at the same time have a chance to win cool items!
**** THE AUCTION RUNS FROM APRIL 14th at 3 PM TO APRIL 21st AT 6PM. ****
Being a part of a mission trip experience can be life changing. Youth work as a team to help a world in need and often are allowed a glimpse into another person's life, circumstances, and heart. It is powerful opportunity to love our neighbors.