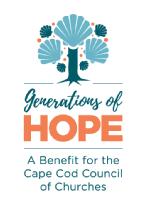 The CAPE COD COUNCIL OF CHURCHES
is having a birthday party! Please join us!
On Saturday, April 29th, beginning at 5:00 pm, we will be gathering at The Sea View, 76 Chase Avenue, Dennis Port.

Celebrate the 63rd anniversary of the Cape Cod Council of Churches while enjoying hot & cold hors d'oeuvres and bidding on silent auction items!

Plus, you can "Fund A Need" to benefit our programs:
A Baby Center, Covenant to Care for Foster Families, Faith Family Kitchen, Hands of Hope Food Pantry & Outreach Center, Homeless Ministries (Youth StreetReach & HereNow Ministries), and Hospital Chaplaincy

We look forward to seeing you there!