Top Bidders
AmyDaisy

$114

md12f49ad

$90

HilaryC

$40

swe8f9ea1

$40

rp1b8037a

$40

ktsmom

$26

sc08c6cc5

$26

pkh5

$25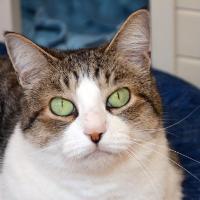 Benefits the Senior Kitties & the Seniors Residents!
Easter's on it's way...
It's your chance to help two great organizations - Shadow Cats & Park Valley Inn Senior Ctr.
Here's how it works-
For each purchase:
-The funds stay at Shadow Cats to fulfill our mission (buying food, medical care, etc.)
-A Shadow Cat Volunteer will hand deliver the gift items to the senior residents.
Auction ends March 26th at 3pm CST (or until we sell out.)
We love our seniors, and because of your generosity, this will be our TENTH year of impacting both senior cat & human lives in Central Texas. We know your purchases often exceed the value of the item and we appreciate your open hearts; understanding you are not only buying an item, but also supporting our mission and the cats we care for. Thank you for your generosity and your compassion.
The funds will be used to help cover to the day-to-day work of caring for the cats at the Sanctuary and hundreds more in the community through our TNR and rescue work.
The winning bid price and sales tax will be charged to your credit card. So please take a minute to make sure your CC information is up to date. Questions? Email info@shadowcats.net.
Please note: These gifts will NOT be shipped directly to you; However, a Shadow Cat volunteer WILL hand deliver the items to the Senior Residents at Park Valley Inn Health Center.
To become a sponsor or learn more about our mission: shadowcats.net