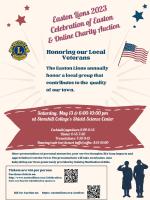 Easton Lions Club Charity Auction and Celebration of Easton's Veterans!
The Easton Lions Annual Charity Online Auction will start on May 6, 2023 and end at our Celebration of Easton's Veterans dinner and dancing event on Saturday night, May 13, 2023.
The Easton Lions Club are auctioning off a number of fun and unique items to raise money for the Easton community and for eye research - the more items we have the more money we can raise, so we're asking for your help.
Most items will be available for online bidding only (starting on May 6 and ending at the May 13 Celebration event), while a few select items will be auctioned off live on May 13.
Live Event Details
Sat May 13, 2023
6PM - 10PM EDT
Pettit Atrium at the Shields Science Center at Stonehill College
320 Washington Street Easton MA 02357
Add to My Calendar
Get Directions
[SOLD OUT !!] Please join us at the Celebration of Easton of Easton's Veterans dinner and dancing evening on May 13 at the beautiful Pettit Atrium at Stonehill College to help recognize and honor our Veterans!
The Easton Lions annually recognize people and organizations that make our town special. This year we recognize and honor our Veterans.
The event will include short presentations of personal memories, post-service thoughts, life-long impacts, and our appreciation for our local Veterans' service.
The Celebration dinner and dancing event includes a cash bar, appetizers, dinner, dessert buffet, dancing, and a live auction.
SCHEDULE AND LOCATION:
Saturday Evening, May 13
Cocktails/appetizers: 6:00-6:45 pm
Dinner: 6:45-7:30 pm
Presentations: 7:30-8:15 pm
Dancing / cash bar / dessert buffet / coffee: 8:15-10 pm
$35 per person
Questions? Email Gary at celebration@eastonlions.org
TICKETS AND INFORMATION:
Scan with camera or click the QR code below: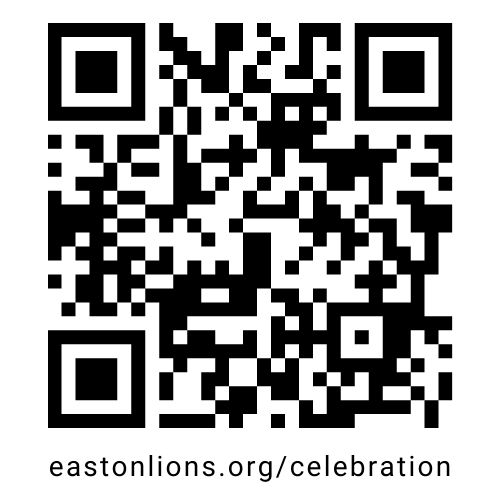 Become a Sponsor - Donate an Item
Place your company's logo on our site that links back to your own web page and you could develop new business. We can track how often your logo is viewed and clicked to see just how many people are accessing your site.
If you have an item to donate to our auction, click the Donate an Item link here.