Featured Sponsors
Heritage on the Marina
Top Bidders
janethof

$1,145

spikeloy

$1,011

cj468d7e0

$858

iWILLoutBidU

$855

ac6ff25c6

$590

Beedle

$573

Sl1743

$520

cdeb0e181

$508

jd0e97ec9

$505

nkrause

$495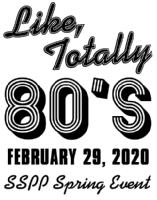 Like, Totally! This year's Spring Event will be radical!
Saints Peter and Paul School (SSPP)

, located across from Washington Square Park in North Beach, has maintained a tradition of educational excellence in San Francisco since its inception in 1925. SSPP offers a strong academic program that emphasizes the core curriculum as well as incorporating co-curricular classes including Art in Action, music, theater, computer lab, coding, Italian, Spanish, physical education, and robotics.
From February 24 to March 2, 2020, SSPP will be auctioning off a number of fun and unique items to bid on to raise money for our organization - and the more items we have the more money we can raise, so we're asking for your help.
Give a little and get a lot in return.
Help us make this our most successful auction yet by clicking on the "Donate Items" button to contribute to our catalog.
Your donation will help contribute to our success! In return, your item in the online catalog will mention your name and include a link back to your own web page!
Live Event Details
Sat Feb 29, 2020
6:30 PM - 11PM PST
Italian Athletic Club
1630 Stockton Street
Add to My Calendar
Get Directions
Poof up your bangs, wear your acid washed jeans, or sport your leg warmers. This year's Spring Event will be Radical!
Join us Saturday, February 29, for SSPP's Like, Totally 80's fundraiser, being held at the Italian Athletic Club!
There will be plenty to keep you busy with funky fresh food, an awesome blackjack tournament, a legit live auction, and dope dancing to the mega music of DJ Dennis Gallegos!
PLAN A participating families, please use the discount code: PLANA at checkout to RSVP and redeem your tickets!
Become a Sponsor
$250 Gnarly
• Hella awesome 1⁄2-page black & white ad in the event program
• Super sponsor recognition in pre-event email blasts and the event slide show
• 2 Excellent specialty cocktails in memorabilia glasses at the event
$500 Tubular
• Hella awesome 1⁄2-page color ad in the event program
• Super sponsor recognition in pre-event email blasts and the event slide show
• 4 Excellent specialty cocktails in memorabilia glasses at the event
$1000 Bodacious
• Hella awesome 1⁄2-page color ad in the event program
• Super sponsor recognition in pre-event email blasts and the event slide show
• Outrageous on-stage acknowledgement at the event by the MC
• Righteous reserved seating at event for 4 prepaid SSPP school guests. (If the sponsor is a friend of the SSPP community and attending the event, then 4 free event tickets plus reserved seating for 4 will be provided.)
• 8 Excellent specialty cocktails in memorabilia glasses at the event
• Schweet treats at the table
$2500 Radical
• Your legit logo on our auction website
• Hella awesome full-page color ad in event program
• Super sponsor recognition in pre-event email blasts and the event slide show
• Outrageous on-stage acknowledgement at event by the MC
• Righteous reserved seating for 10 prepaid SSPP school guests. (If the sponsor is a friend of the SSPP community and attending the event, then 10 free event tickets plus reserved seating for 10 will be provided.)
• 10 Excellent specialty cocktails in memorabilia glasses at the event
• 2 Funky fresh reserved parking spaces
• Big time banner with your logo displayed at school
• Schweet treats at the table