The Regions Tradition Birdies for Charity Online Auction Fundraiser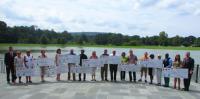 Birdies for Charity presented by SouthWest Water Company is a fundraising program through the PGA TOUR Champions tournament, Regions Tradition. The program gives local 501(c)(3) charities the opportunity to raise money for their organizations. In 2015, the program distributed a record $514,600 to the participating charities!
NEW this year, Regions Tradition will be holding a Spring and Fall online auction to raise funds for the participating charities. When you place a bid on an item, you are supporting the charities is our community because 100% of the proceeds generated through these auctions will go to the charities participating in the 2016 Birdies for Charity program!
The Spring Auction Fundraiser is now LIVE and will close on Tuesday, April 19th at 8 pm CDT!