Donate Cash
Auction Links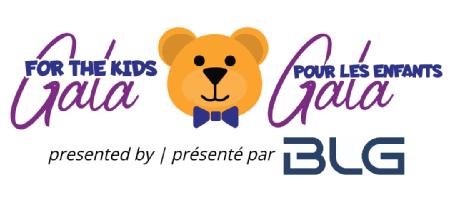 2020 For the Kids Gala Online Auction
The April 1, 2020 event was cancelled, but you can still bid on the auction from the comfort of your couch!
Unfortunately, due to the health risks posed by COVID-19 and In order to protect the health and safety of everyone involved, we have made the difficult, but necessary, decision to cancel the public portion of the event.
The incredible children and youth who benefit from the For the Kids Gala are those who live with medical complexities and conditions that may compromise their immune systems and make them even more vulnerable to infection. This underscores the importance of all of us playing our part in preventing the spread of infection in our community.
At the same time, however, these kids and their families will continue to rely on CHEO for help and we continue to rely on you to help us provide it. We are therefore pleased to announce that we are shifting from a traditional Gala to an online fundraising event which can be conducted in a safe, secure and convenient way.

We hope we can count on you to make this shift with us and be an active and generous bidder through our online auction which is live now right through April 30, 2020. All you need to do is register online to bid on a huge selection of incredible experiences, gift cards, product baskets, original artwork and so much more. We are excited to share that Live Auction packages planned for our event have now been shifted over to the online platform, and more new items will be added throughout the month!
Remember, each time you bid you are supporting CHEO's Development & Rehabilitation services and supporting some of the most exceptional children, youth and families in our community. With this in mind, we encourage you to share the link with your family and friends so they too can contribute to the success of this effort and win some fabulous prizes at the same time.
The auction will run from Wednesday, March 4, 2020 to Thursday, April 30, 2020, with proceeds going to CHEO Foundation in support of Development & Rehabilitation at CHEO. So, tell your friends, family, and community, and help support the children & youth in your community.
We are in this together!
Meet the 2020 CHEO For The Kids Gala Champion!
MIKAYLA HOWSE
Mikayla Howse is almost eight years old. Her mother Katelyn is thrilled to be planning a big birthday celebration in her honour, because Mikayla is a medical miracle! During Katelyn's pregnancy, an ultrasound revealed her baby had suffered a stroke. Mikayla wasn't expected to live more than a couple of days and was admitted into palliative care following her birth. Two days became two weeks and then beyond. Obviously, Mikayla had other plans.
When she first came to CHEO, Mikayla was followed by 14 specialists which was overwhelming for her and her family. These days, she has an appointment every three months and receives some of her therapies through the CHEO School program. She is making giant strides in her development and is loving every minute.
The family is from Rockland – and these kinds of programs aren't accessible to her in their community. Thanks to donor support of development and rehabilitation services at CHEO, Mikayla is reaping the benefits of staying active in a safe and therapeutic environment that is accessible and inclusive so she can just 'be a kid.'
Your support of the CHEO For The Kids Gala online auction helps kids like Mikalya continue to thrive with help from Development and Rehabilitation at CHEO! Thank you for being a Hero for CHEO!
See Mikayla's full video story in this clip:
https://www.youtube.com/watch?v=I4tOazcT_24
Special Thank You to our Sponsors!

Transformational Presenting Sponsor: Borden Ladner Gervais, LLP
Inspirational Sponsors: Homestead, Boardwalk Realty Inc., and Gradient Wind.
Empowering Sponsors: Enercare, TEK Systems, Donnelly Team Real Estate, Soloway Wright, Mordern Niagara, Selladore, and Dark Horse Estate Winery.
Encouraging Sponsors: Ellis Don, Fasken, Osgoode Properties, Parkin Architects Ltd., Bee-Clean Building Maintenance, Horizon Plumbing & Piping Systems, Axe Sales Recruiting, Feely Grup Real Estate, Paramount Properties, OPES Wealth Management, G. Michael Smith Professional Corp., Carte Blanche Spa and The Matt Foundation.
See all of our amazing partners on our website here:
https://www.cheoforthekids.com/sponsors
Feel free to share this link and/or QR code with your network of friends, family and colleagues.
Let the bidding begin to help the kids and families at CHEO live their best life!