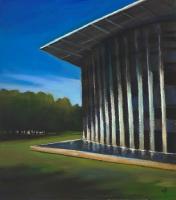 Cast the winning bid for an original portrait of The Soraya and support arts in the Valley
Celebrate the first 10 years of The Soraya and look forward to many more years to come with this original piece of artwork.
Artist and Los Angeles resident Scott Yeskel brings his signature style to this painting, commissioned for The Soraya?s 10th anniversary, contextualizing Southern California architecture in dramatic natural and manmade surroundings. Yeskel captures the energy and dynamism of The Soraya, inside and out, highlighting its bold lines with the warm light of sundown that plays off the metallic columns and reflecting pool.
You can cast your bid beginning March 1 when The Soraya begins its auction of this portrait. Funds raised will go to support the general operating of The Soraya, iwhich includes artists, programs, and more.
View The Soraya by Scott Yeskel in person on the Balcony Level outside of Porter Pavilion before every concert!
Make Your Bid to Support The Soraya!
About the Soraya
The 201-22 Season marks the 10th anniversary of the award-winning Younes and Soraya Nazarian Center for the Performing Arts which has quickly become one of the cultural jewels of the greater Los Angeles region. Under the leadership of Executive Director Thor Steingraber, The Soraya continues to expand its programming and outstanding multidisciplinary performances. The mission of The Soraya is to present a wide variety of performances that not only includes new and original work from the Los Angeles region but also work from around the world that appeal to all of LAs rich and diverse communities.
Located on the campus of California State University, Northridge, The Sorayas season offers a vibrant performance program of nearly 50 classical and popular music, dance, theater, family, and international events that will serve to establish The Soraya as the intellectual and cultural heart of the San Fernando Valley, and further establish itself as one of the top arts companies in Southern California. The award-winning, 1,700-seat theatre was designed by HGA Architects and Engineers with lead design architect Kara Hill and was recently cited by the Los Angeles Times as a growing hub for live music, dance, drama, and other cultural events.