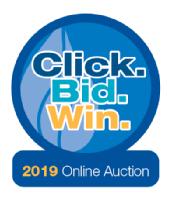 Our next auction will run January 21-28, 2019
Our January auction will feature bulk buys, credit memos, and packages that are perfect for campus stores. Whether you are attending CAMEX or not, this will be a great opportunity to find new products for your store or score some deals!
Donate now for our January Auction!
College stores want to support companies that support our industry and store buyers are always looking for new products. Supporting the NACS Foundation's Online Auction is simply a good business decision.
Donating items to the Foundation's Online Auction helps stores learn more about your featured products and helps you cultivate ongoing and new customer relationships. You benefit further because all funds from the auction support bringing more buyers to CAMEX as well.
These NACS Foundation programs provide valuable product and brand exposure before and during the CAMEX show. Your participation will be marketed to hundreds of college stores and your company can benefit through:
Generating new sales leads
Sharing new product info
Scheduling face-to-face appointments at CAMEX
Your company will also be actively recognized through:
CAMEX booth signage and badge ribbons for your trade show staff
Print promotions in The College Store magazine and on the CAMEX app
Recognition on the NACS Foundation website and in their CAMEX booth