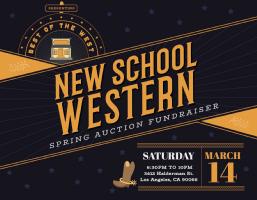 Auction NOW LIVE!
Live Event Details
Sat Mar 14, 2020
6:30 PM - 10:30 PM PDT
The Stevens Home
3412 Halderman St., Los Angeles, CA 90066
Add to My Calendar
Get Directions
In appreciation for all that NSW has done for our families and community, we take this opportunity to CELEBRATE and SUPPORT by giving back.
Online Auction is will go LIVE Saturday, March 7th and will close Wednesday, March 18th at 9 pm. All funds raised from this event will support important educational programs at NSW.
The Annual Fundraising Party is Saturday, March 14th at the Stevens' House in Mar Vista. All current and former NSW parents and guests should join for a VIP experience and the best party you've been to since becoming a parent!
If you are unable to attend, please consider making a cash donation for this event or sponsoring a teacher. The Donate Cash Button is to the right.
Roleen and her team have nurtured so many young lives over the years and have taken great care with our children to help them succeed in this world. We ask that you take a moment to please support the incredible work of The New School-West.
Thank you in advance for your support.