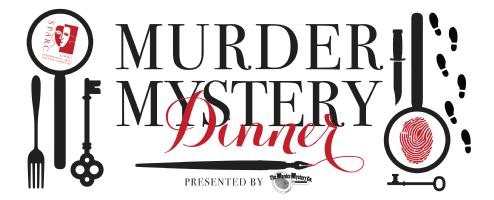 CRIME AND PUNISHMENT in the Roaring 20's Era
SPARC's first foray into Crime Scene Investigation! A genuine "whodunnit" for all you mystery buffs. Guess what?!!! You are the super sleuths AND there is a prize to be had. Don't miss this laugh-a-minute event performed by Murder Mystery Theatre Company. Proceeds benefit district-wide performing arts enabled by SPARC.
Live Event Details
Sat Jan 27, 2018
6:30 PM - 9:30 PM EST
Summit Elks Lodge
40 Maple Street, Summit NJ
Add to My Calendar
Get Directions
The mystery begins at the Summit Elks Lodge on Saturday, January 27th. Doors open at
6:30pm
for Dinner, Cash Bar, Socializing and Undercover Sleuthing.
Click the link to buy tickets, either individually or grab some friends and buy a table for some group-sleuthing. Buy tickets now, tickets are limited and there will be no ticket sales at the door!
Doors close at 7:00 so mystery solving can begin promptly!
Tickets:
Come As You Are: $100
Dress the Part Upgrade (includes boa/fedora): $20 additional
Red Carpet Upgrade (includes boa/fedora and photo with the actors): $30 additional
Buy a table of 8 and sleuth with your friends!