Auction Links
Top Referrers
Ellen Couture

13

Natalie Haskell

6

Ruth Summers

5

Douglas Palmer

2

Joan Dube

2
Refer Your Friends
Top Bidders
cbf1e0b6b

$1,087

BBM1

$714

ts0f5c5cf

$464

spf1634a1

$374

af9d38fd3

$332

sr837eb01

$300

pkf91e8aa

$290

merbaker

$266

bb02d3b97

$259

StBrigidSchool

$250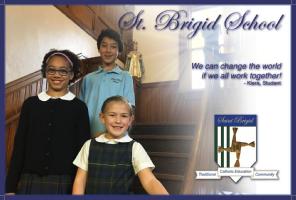 Help our students to blossom!
Once again, St. Brigid School in Portland will be auctioning off a variety of items and services to raise money for our students.
The more items we have, the more money we can raise, so we're asking for your help. Show your support by clicking on the "Donate Items" button to contribute to our catalog. By donating an item or service directly online, you'll be helping to raise money for our organization, and you'll receive a mention on our site that can link back to your own web page.
Then, starting at 8 a.m. on April 17 and running through 8 p.m. on April 26, 2017, come browse our online auction! Bid on a gift certificate to your favorite restaurant or retailer, a unique item, or a practical service from a wide variety of generous donors.
By participating in our online, silent, and live auctions, you are helping to ensure that we will be able to make a difference in our students' lives for many years to come!
We look forward to seeing you at the online and live auction events. Thank you so much for your generous support!
Live Event Details
Fri Apr 28, 2017
4:30 PM - 11:30 PM EDT
Italian Heritage Center
40 Westland Avenue, Portland, Maine 04102
Add to My Calendar
Get Directions
After the online auction closes, we invite you join us on April 28, 2017 at 6:30 p.m. at the Italian Heritage Center for our silent and live auctions featuring hot and cold hors d'ouevres by Maria's Restaurant, a cash bar, entertainment by DJ Jim Fahey, dancing, games, and more items! VIP ticket holders will enjoy a preview of the silent auction at 6:00 p.m. with "buy now" options on items as well as premium seating and other perks! Purchase your tickets online now for an unforgettable evening!
Thank you to this year's St. Brigid "Education in Bloom" auction sponsors!