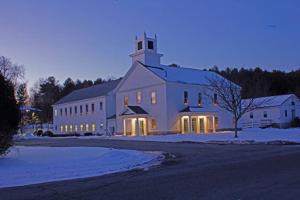 Welcome to the 2022 UCCB Silent Auction!
About our Church
Since 1833, the United Church of Christ in Boxborough, Massachusetts, (UCCB) has been a faith community that cares deeply about each other, our town and the world. The church has served as a gathering place for neighbors, a resource for the wider community, and a spiritual home for generations. All are welcome to share life's journeys and worship together on Sunday. Visit the church website www.boxboroughucc.org for more information.

About the UCCB Silent Auction
A major community-building and fundraising event for the church is the UCCB Merrie Christmas Fair held at the church every year on the Saturday before Thanksgiving. The tradition continues this year, with the Merrie Christmas Fair's Silent Auction now being held online. We are excited to use this convenient way to reach out to long-time auction-goers and to introduce new bidders to the wonderful variety of items and experiences available in the UCCB Silent Auction.
The online UCCB Silent Auction will be open for bids from 8 AM on November 9 to 6 PM on November 19 with over 240 items to bid on. Ten percent of the proceeds will be donated to the Acton Food Pantry.

Auction items range from amazing vacation getaways to exquisite handmade items to exciting articles and unique experiences that will please every age and interest. This is a great opportunity to purchase gifts that will surprise and delight, support local businesses by buying their gift certificates, and get your holiday shopping done early!
Featured Items at the bottom of this page will be switched every couple of days during the Auction. Some new items will be added during the Auction, too, so keep checking us out. Tell your friends, family, neighbors, and co-workers by using the social media buttons to recommend items you think they might like to bid on.
Helpful Tips about the Auction:
Click VIEW ALL ITEMS to explore over 240 items we have to offer. Search the whole list, explore by the categories listed in the upper left of the page, or search by key word(s). Click on each item to see detailed information about that item.

Be sure to REGISTER TO BID so you'll have a login email and password for easy SIGN IN later.

You'll need to add your credit card information to your registration in order to start bidding.

If you want to track items of interest, you can ADD them to MY ITEMS.
You can receive email or text notifications if someone has bid more than your top bid so you can consider raising your bid.

After the Auction closes on Saturday, November 19:
Items will be awarded to the highest bidder starting at 6:00 PM on Saturday, Nov. 19.

Email notifications will be sent to winning bidders with the church location where they can come to pick up their items on either Sun., Nov. 20 between 3 PM and 7 PM or Tues., Nov. 22 between 9 AM and Noon. If these pickup times do not work for you, let us know and we will try to find another mutually convenient pickup time.

Winners who cannot come to the church to pick up their items will be charged shipping to have items delivered. Shipping for most items will be done using USPS Priority Mail Flat Rate boxes, which come in sizes small ($10.40), medium ($17.05), and large ($22.45). Shipping for items that will not fit in a USPS Priority Mail Flat Rate box will be done by UPS Ground.


Gift certificates will be mailed to winning bidders at no cost.
Let the bidding begin!
Huge thanks to all our donors
in the church and in our local community!