Vesterheim's Folk Art Benefit Auction opens soon!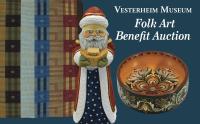 Welcome to the Benefit Auction for Vesterheim, the national Norwegian-American museum and heritage center! We're featuring one-of-a-kind folk-art pieces made and donated by Vesterheim Gold Medalists and ribbon winners from the museum's judged "National Exhibition of Folk Art in the Norwegian Tradition." The auction opens at noon (CST) on September 23 and ends at 9:00 p.m (CST) on October 1, 2017. It is easy to register and you can bid from anywhere on this fantastic artwork by experts in the Norwegian tradition. Proceeds from the auction benefit Vesterheim's Folk Art School.
Pictures and complete descriptions of all the items will be available by September 14th for viewing. Take a look at these wonderful pieces and get ready to bid! Scroll through the tremendous selection and wide variety of rosemaling (Norwegian decorative painting). You will also find a nice variety of the incredible textiles, which include beautiful weavings, traditional needlework, and items for a Norwegian costume. There are a number of creative woodworking items, plus a couple of extra-fun pieces produced by Vesterheim's "Whittling Klubb for Kids" participants. And don't forget the amazing chance to win a Viking River Cruise 8-day trip on the Danube!
Through 33,000 artifacts and 12 historic buildings, the museum shares the most comprehensive collection of Norwegian-American artifacts in the world. This treasure is also a center for folk-art education, offering a wide variety of classes in authentic Norwegian folk art every year. For more information about the museum's exhibitions, classes, events, membership opportunities, and ways to donate, check Vesterheim's website at vesterheim.org or call (563) 382-9681.
Thank you for your interest!
Items pictured:
Weaving by Kelly Marshall. Carving by David Fowler. Rosemaling by Judy Ritger.