Donate Cash
Auction Links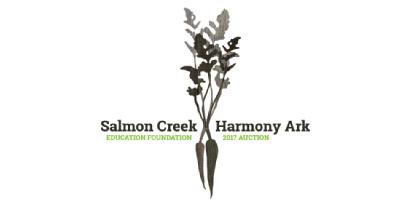 Harmony Ark Education Foundation is getting ready to run an online auction fundraiser.
Starting on March 27, 2017, Harmony Ark Education Foundation will be auctioning off a number of fun and unique items to bid on to raise money for our organization - and the more items we have the more money we can raise, so we're asking for your help.

Show your support by clicking on the "Donate Items" button to contribute to our catalog.

Give a little and get a lot in return.
Whether you have 1 item or 100 to contribute, your participation is an invaluable part of our fundraising efforts. By donating an item or service directly online, you'll be helping to raise money for our organization, and you'll receive a mention on our site that can link back to your own web page.
Live Event Details
Sat Apr 8, 2017
5:30 PM - 9PM PDT
Fernando's Event Center
17699 CA-1, Bodega, CA 94922
Add to My Calendar
Get Directions
Come enjoye a nourishing evening under the stars at Fernando's Event Center in Bodega for the annual Salmon Creek Harmony Ark Education Foundation's Dinner & Auction.
The Harmony Ark Foundation raises money for enrichment activities for our children that the school can't provide with state funding alone, such as our drama program, school garden, supplemental Spanish, poetry writing, field trips, and many other community-building activities. We also purchase resource materials for the school's library and classrooms, and provide student activity scholarships.
Mark from Raymond's Bakery will be serving some of his famous pizzas along with a delicious meal served by Fernando himself, just to name a few. And as always, home brewed beer and local wines will be flowing.
So join us!

The party starts at 5:30 at Fernando's Event Center in Bodega. There will be a silent and live auction with delicious food for you and your friends to enjoy.
The evening will be accompanied by lively silent bidding, live music, tastings from local chefs, and an even livelier live auction! Not to be missed!
Purchase your ticket before April 2 (to save!) for $55
Purchase your ticket after April 3 for $65
Childcare for the evening is being offered on school campus between 5-10pm. Space is limited, so reserve a spot for your child today! Childcare includes pizza dinner, fun activites & a movie.
Become a Sponsor
Becoming a sponsor to this years auction you will not only show your support for the school, you will also enjoy complimentary tickets to the live event April 8th at Fernando's Event Center in Bodega.
To purchase a sponsorship simply click HERE!
We have auction sponsorship opportunities for every contribution level and to meet your sponsorship needs.