Donate Now
Top Bidders
adman1

$1,110

Bcadet

$431

jw8ffd1c5

$360

pamorel

$345

jbvicari

$338

Leahrube

$315

sga2fce4b

$300

lauriecharlton

$280

lwmccumber

$200

jbstory

$175
Just a couple days left!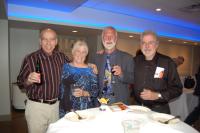 Before you know it, the online auction will close and most items will only be available at the BACHday Bash event on Saturday.
If you have your eye on an item that is set to close tomorrw at 6:00, you best be keeping an eye on it over the next 24 hours.
If, instead, you long for an item that will go to a bid sheet at the party, bid early and often and GOOD LUCK!
Don't forget to get your tickets so you can continue bidding to win those items you covet!
Become a Sponsor
If you or your organization would like to become a sponsor please complete our simple form and we will contact you.