Auction Links
Top Bidders
karar

$97

mgetman58

$90

nr08ee0c3

$75

ms74b316a

$75

dbf713bad

$75

mlb4

$75

dvf829c45

$65

cm1db1ca7

$40

mf366f02d

$15

stc88910c

$10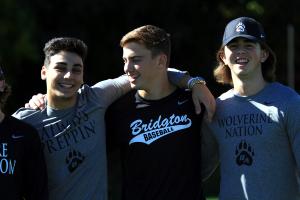 The Online Auction is Open!
We are excited to announce that the 2016 Black & Grey Way Online Graduation Auction is now open! This spring auction will run from April 26, 2017 to May 3, 2017, with all proceeds directly benefiting The Bridgton Fund.

In the lead-up to Commencement, this special auction offers a range of Bridgton memorabilia - perfect gifts for that special Wolverine who is only days away from joining the ranks of esteemed Bridgton alumni before him. Please share this with your family, friends, and community to help us reach our Bridgton Fund goals. Let the bidding begin!
Make Your Bid to Support Bridgton Academy!
Now is your chance to not only get all the great items you want, but to do it knowing you are helping support Bridgton Academy and our mission to "educate young men for the rigors of college and beyond."