Donate Cash
Auction Links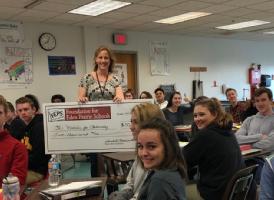 It's Auction time for the Foundation for Eden Prairie Schools!!
Auction runs March 14 -22, 2018
IN 2017, THE FOUNDATION FOR EDEN PRAIRIE SCHOOLS (FEPS) AWARDED $33,000 IN GRANTS
Thanks to our generous donors and supporters, the Foundation awarded 6 grants which will benefit Thousands of EP Students!
Google Virtual Reality Kits
Central Middle School received a $10,000 grant to purchase Google Expedition virtual reality kits. Students will be able to take "virtual field trips" all around the world! What a fantastic way to learn!
STEM Materials
Community Education received $1,200 to purchase science, technology, engineering and math (STEM) materials for students who are struggling academically. Making a difference for our kids!
Sphero Robotic Balls
Eden Lake Elementary received $1,100 to purchase a set of Spheros, baseball-sized robotic spheres. Students can use coding to make the balls perform various tasks. A perfect way to learn 21st Century skills, critical thinking and collaboration!
3D Models and Lab Equipment
EP High School received a $5,000 grant to purchase 3D models and lab equipment to teach microscopic concepts in chemistry. Bringing science to life!
Tools for Creative Sharing of Learning
Central Middle School received almost $1,400 to purchase tools so students can create videos, visuals, and digital games to share what they've learned. What a great way to apply the 4C's - creativity, communication, collaboration, and critical thinking!
Tower Gardens
Eden Lake received $3,750 to purchase an aeroponic tower garden, to teach students about plants and how they grow. Students will plant, harvest and eat the produce they grow throughout the year! Now each elementary school has at least one tower garden!