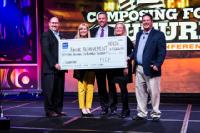 The 2017 FICP Annual Conference Silent Auction
Beginning September 27, 2017, support FICP and Junior Achievement by bidding on one (or more!) of the donated items. Instructions are below.
The 2017 FICP Annual Conference will host FICP's 16th annual silent auction. In keeping with FICP's dedicated philanthropic efforts, the silent auction will once again support Junior Achievement® (JA), with proceeds benefitting JA Worldwide® and Junior Achievement of San Diego.
JA is dedicated to providing youth with the knowledge and skills they need to own their economic success, plan for their future and make smart academic and economic choices. JA serves more than 10 million students in 123 countries worldwide. Learn more about FICP's partnership with JA here.
How to Donate
We are currently accepting donations. If you would like to donate an item, please follow the instructions below. All donations must be received by October 13.
Click on the "Donate Items" button on the left-hand side.


If you made a donation last year, log in to the site. If you do not remember your login information or are new to the site, register as a new user. Please note: your login for the auction website is not the same as your login for the FICP website.


Once you have completed the online form with the details for your donation, your donation will be visible on the site pending review.
How to Bid
Register as a bidder using the link in the upper right-hand corner. This login is silent auction specific, so you will not be able to log in using your FICP username and password.

Once you have created your unique username and password, you will be able to view specific auction packages and items.

When placing your first bid, you will need to choose the 'Add Credit Card' option, found next to the credit card images. This option will redirect you to a new page, where you will be asked to supply your card information. Upon successfully entering your information, choose 'Return to Item' to place your bid.

After you have completed these steps, the fun (and bidding) may begin!
* If you would like to bid anonymously, simply make your username non-specific. All participants receive alerts when they have been outbid, including the username of the person who has placed the higher bid. Returning users: If you would like to change your username to be less specific, you may do so by visiting the "My Account" page and updating your username.
* IMPORTANT: Only active FICP planner members and hospitality partners are eligible to participate in the silent auction and redeem auction prizes.