Live Event
Tue Oct 4, 2016
6PM - 9PM EDT
The Loeb Boathouse Central Park
East 72nd Street & Park Drive North, New York, NY 10021
Donate Now
Silent Auction
ONLINE AUCTION OPEN
Register and place your bids!
NEW ITEMS ADDED!!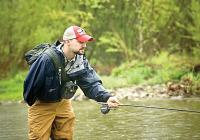 Project Healing Waters Fly Fishing, Inc. is dedicated to the physical and emotional rehabilitation of disabled active military service personnel and disabled veterans through fly fishing and associated activities including education and outings. Now in its 3rd year, Healing on the Fly NYC is a lovely event which supports Project Healing Waters Fly Fishing and the thousands of disabled veterans they serve across the United States each year.
The online auction opens September 16th, 2016 and closes Tuesday evening, October 4th, 2016 (at approximately 8 PM ET). Bids can be placed online by those attending the event, or supporting from afar, using 'Mobile Bidding' on smartphones, tablets, and personal computers. This great service enables all registered bidders, regardless of location, to place bids online until the silent auction closes.
Items available for auction include outstanding world-class trips,fishing gear and equipment, unique artwork, autographed sports memorabilia, amazing handmade pieces from Project Healing Waters veteran participants and volunteers, and much more.
All proceeds will go towards the recovery and rehabilitation of the thousands of disabled veterans served annually by Project Healing Waters Fly Fishing programs nationwide. With your help, we can continue providing the veterans we serve with the support they need on their journeys to recovery.
Learn more about Healing on the Fly NYC
and Project Healing Waters Fly Fishing