Donate Now
Top Bidders
Tony_Levin

$1,645

robynl

$1,101

ds18d7a29

$960

aleven

$808

dlevin1218

$800

nw1c382cc

$701

jw8ffd1c5

$700

Mom2

$510

michtom

$485

heres2ears

$460
LAST DAY BID -- AUCTION CLOSES TONIGHT AT 8PM EST.

CLICK, BID & WIN...WHILE SUPPORTING JEWISH LIFE ON CAMPUS!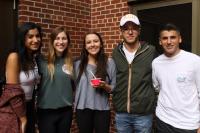 Our auction benefits student programming and Jewish life at Michigan State University and the ten campuses of the Hillel Campus Alliance of Michigan (Central Michigan University, Eastern Michigan University, Grand Valley State University, Michigan Technological University, Northern Michigan University, Saginaw Valley State University, Western Michigan University, and Albion, Alma and Kalamazoo Colleges).
Auction items range from exotic vacation getaways, one of a kind memorabilia, sports and concert tickets, great gifts, unique experiences and so much more -- you are guaranteed to find the perfect item or two! Tell your friends, family, and community to visit the auction and have fun bidding!
Now is your chance to not only get all the great items you want, but to do it knowing you are helping support our organizations and mission. Your bid supports and enhances Jewish life on 11 college campuses. From social events to social action experiences; Jewish cultural programs to Israel initiatives -- or just a bowl of Matzo Ball soup -- Hillel is the place to be -- and your support makes so much possible.
Hillels are creating a strong future for our community!
CLICK! BID! WIN!
Great Hanukkah gift ideas!!
CLICK, BID AND WIN!
One of the best things about participating is what you get when you give. All you have to do is CLICK! BID! WIN! From great electronics gear to once-in-a-lifetime experiences, this is the place to get in on all the online auction action!