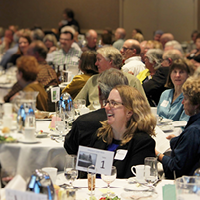 A fundraiser to protect land, water, and wildlife
Our Annual Conservation Dinner and Auction is a fun opportunity for Nisqually Land Trust friends and supporters to mingle while raising crucial funds to support conservation in the Nisqually River Watershed. Besides good company, your evening will include a delicious dinner, no-host bar, silent auction, a brief conservation presentation, and a spirited live auction directed by professional auctioneer Cindy Schorno – how could you go wrong? Mark your calendar and make plans to attend.
Pre-register your credit card when you buy your tickets and skip the check-out line at the event! It's easy and secure.
Live Event Details
Sat Apr 1, 2017
4:30 PM - 9PM PDT
South Puget Sound Community College - Lacey Campus
4220 6th Ave SE, Lacey, WA 98503
Add to My Calendar
Get Directions
Please join us!
Tickets are $125 per person and include hors d'oeuvres, oyster bar, buffet dinner and a $25 auction voucher.