Auction Ends: Sep 20, 2015 09:00 PM EDT
North House Folk School's 2015 Points North Auction Coming Soon!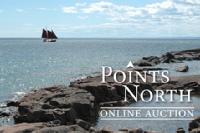 Sound the horn!
Points North Auction is coming soon! Starting on September 11, 2015, North House Folk School will be auctioning off a number of exciting, delicious, and luxurious items that tell the unique story of Minnesota's North Shore and the local businesses that make it shine. What's more? It's an auction with a cause! All money raised goes toward making the school's mission come alive so that we can bring the best instructors, coursework, programming, and speakers to campus year round.

Give a little and get a lot in return.
Have a great idea for a "must-have" item that speaks to the flavor of the North Shore? The more items we have the more money we can raise, so we're asking for your help.
Last year, our Points North Auction had over 30,000 page views! Whether you have 1 item or 100 to contribute, your participation is an invaluable part of our fundraising efforts. By donating an item or service directly online, you'll be helping to raise money for our organization, and you'll receive a mention on our site that can link back to your own web page.

Either fill out the form here, or get in touch with us at info@northhouse.org to donate an item to our auction.