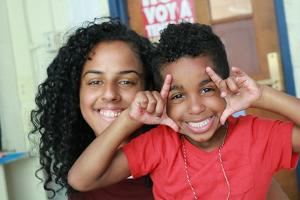 PBHA is getting ready to run an online auction fundraiser for the

Summer Urban Program (SUP)

!
The Phillips Brooks House Association (PBHA) is preparing to auctioning off a number of exciting and unique items to raise money for the Summer Urban Program (SUP). Exact dates to be announced soon but participants can expect a week long auction to celebrate and directly support the Summer Urban Program's 11 student-run summer camps serving more than 1,000 children and teens throughout Greater Boston and Cambridge. The more items we have the more money we can raise for our youth and their families -- we're asking for your help!
How can I contribute? Sponsor and or donate an item!
Show your support by sponsoring (more info below) or click the "Donate Items" button to contribute to our catalog. Contact Thalia at thalia@pbha.org with any questions and please allow 1-2 business days for a response regarding a request.

Give a little and get a lot in return. Whether you can sponsor, give one 1 item or 100 items, your participation is an invaluable part of our fundraising efforts. By sponsoring, or donating an item or service directly online, you'll be helping to raise money for SUP, and you'll receive a mention on our site that can link back to your own web page.
What is SUP?
PBHA's Summer Urban Program (SUP) is a network of 11 day camps and one evening ESL program located throughout Cambridge & the Greater Boston area. Each summer, our SUP camps provide 850+ low-income youth with the opportunity to engage in academically enriching lesson plans to prevent summer learning loss, participate in activities that promote social-emotional development, and attend recreational field trips with their peers.
Additionally, SUP provides a transformative summer employment experience to 100 local teens from the surrounding community and 130 college students who co-teach in the classroom. SUP has been named an Excellence Award winner by the National Summer Learning Association in recognition of its high quality programming, and was honored by First Lady Michelle Obama as part of her Reach Higher initiative.
Why does SUP need your help?
While the actual cost of SUP programming is more than $1,400 per camper, our camps charge only 10% or $140 (or less) per camper for the entire summer, and no family is turned away because of financial need. To make these programs possible, PBHA must raise $1.5 million in addition to in-kind contributions to cover student salaries and more. Your support ensures that vital summer programming remains affordable for the families most in need.
More about PBHA:
The Phillips Brooks House Association (PBHA) strives for social justice. As a student-led organization, PBHA mobilizes volunteers in collaboration with local partners to address gaps in opportunities and resources. We develop student and community leadership to meet critical needs and advocate for structural change. PBHA seeks to promote social awareness and community involvement at Harvard and beyond. Today, 1,500 volunteers participate in more than 80 programs serving 10,000 low-income people in Greater Boston. PBHA brings the creativity and enthusiasm of students together with the guidance of professional staff and the knowledge of community members to offer inspired and effective year-round programming.
Become a Sponsor of SUP!
To run SUP we rely on student staff fundraising efforts (to help cover the cost of their salaries) and sponsorships from generous donors. As our anticipated costs rise each year in accordance with the MA minimum wage increase, PBHA remains committed to increasing SUP's budget to adequately pay youth a living wage. We need your support to help make summer successful!
Donors can sponsor SUP programming at the following levels:
Auction Co-Chair ($20,000)
Benefits: A feature on PBHA's website, social media, and in SUP Auction materials; Sponsorship of our Midsummer Celebration (attended by 1,500 campers, families & partners), and benefits of all lower levels

Imapct:

Sponsors 10 children to attend a full summer of SUP. Stocks their classroom with curriculum supplies and books for a class library, covers the cost of daily breakfast and lunch, and pays camper admission fees for field trips.
Innovator ($10,000)
Benefits: Name or logo on T-shirt (worn by 150 staff throughout the summer), name or company banner displayed on PBHA's website

Impact:

Covers a transformative summer experience for two undergraduate directors who gain invaluable professional experience managing a SUP camp.
Visionary ($5,000)
Benefits:

Name or company logo placed on SUP's water bottle (given to 800 campers and 150 staff members), benefits of all lower levels

Impact:

Sponsors a teen junior counselor, providing a summer of work, leadership development, and skill building. SUP's junior counselors are often former campers who return to camp to give back to younger children in their community and gain valuable job experience.
Philanthropist ($2,500)
Benefits:

Name or Company logo in PBHA's Summer Newsletter, special mention online as a key sponsor of event, benefits of all lower levels

Impact:

Covers one week of shuttle costs for campers that need transportation to and from camp. Also covers transportation to enriching field trips for an entire camp.
Advocate ($1,000)
Benefits:

Name or company and logo in the SUP Auction Program, on the SUP Auction web page, and in PBHA's Summer Newsletter, benefits of supporter level

Impact:

Covers the admissions fees to a Boston museum for one classroom. Such field trips provide educational and enriching experiences outside of the traditional classroom setting for campers
Supporter ($250)
Benefits:

Name or company name in the SUP Auction Program and in PBHA's Summer Newsletter

Impact:

Covers the full cost of an overnight camping trip for one class. Camping trips provide a wonderful opportunity for students to learn about the environment, as well as bond with counselors and fellow campers.