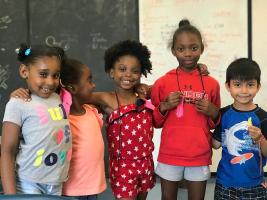 HUECU

invites you to donate learning supplies to children in the

Summer Urban Program (SUP)

!

Donate supplies June 15th through July 6th!
The Phillips Brooks House Association (PBHA) is delighted to partner with the Harvard University Employees Credit Union (HUECU) to support our programs across Cambridge and Greater Boston. While the past few months have been difficult for everyone, we are grateful for HUECU's commitment to engage HUECU members in helping support our most vulnerable communites, specifically the children and families of the Summer Urban Program (SUP).
This summer, PBHA remains committed to providing quality summer enrichment programming and support to the youth and families that participate in our 11 Summer Urban Program (SUP) camps. To facilitate safe remote learning opportunities to combat summer learning loss, PBHA staff will directly deliver classroom supplies and physical wellness equipment to participants' homes. Additionally, PBHA will collaborate with mutual aid organizations to help provide assistance to SUP families experiencing food insecurity.
We are relying on the generosity of supporters like you to give our campers the summer they need and deserve. COVID-19 has disproportionately impacted vulnerable communities and we need your support now more than ever to make SUP accessible to every family. We ask you to join us by either donating to help us purchase supplies to be delivered to campers' homes or by giving directly to SUP. Together, we can provide a safe, enriching, and fun summer to each and every SUP camper.
What is SUP?: PBHA's Summer Urban Program (SUP) is a network of 11 day camps and one evening ESL program located throughout Cambridge & the Greater Boston area. Each summer, our SUP camps provide 850+ low-income youth with the opportunity to engage in academically enriching lesson plans to prevent summer learning loss, participate in activities that promote social-emotional development, and attend recreational field trips with their peers.
Additionally, SUP provides a transformative summer employment experience to 100 local teens from the surrounding community and 130 college students who co-teach in the classroom. SUP has been named an Excellence Award winner by the National Summer Learning Association in recognition of its high quality programming, and was honored by First Lady Michelle Obama as part of her Reach Higher initiative.
**This summer SUP will run an adapted virtual programming model that is safe, responsive to community need, and prioritizes student learning outcomes - both social and academic.
Thank you for donating supplies to SUP youth!