Online Auction to Benefit Pittsburgh Mercy is Now Closed.
Thank You for Your Support!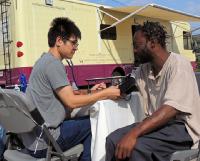 Starting on May 29, 2019 we will be auctioning a number of fun and unique items to benefit Pittsburgh Mercy's programs and services.
Pittsburgh Mercy is a person-centered, population-based, trauma-informed community health and wellness provider. We're a health care home and Certified Community Behavioral Health Clinic (CCBHC). We have an enduring legacy and steadfast mission: to be a compassionate and transforming, healing presence within our communities.
We reach out and meet you where you are in life. We welcome you. We place you at the center of your care. We empower you to make the decisions that you believe are best for your situation. We address your needs – body, mind, and spirit. We strive to deliver an exceptional experience to you – and to every person we serve.
All of our services are community-based. The variety and depth of services we offer helps us to serve your needs in a complete and continuous way. Whether you need help with your recovery, housing, or to find a job, we're here to help.
Thank you to our Media Sponsor, Lamar Advertising.
Become a Sponsor
If you or your organization would like to become a sponsor please complete our simple form and we will contact you.