Pittsburgh Mercy's Holiday Auction is Now Closed!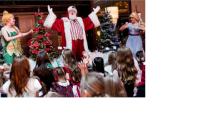 Pittsburgh Mercy is hosting an online holiday auction November 5-12 to raise vital funds for Pittsburgh Mercy's services and programs for individuals, families and children.
EVENTS: In conjunction with the holiday auction, the Reindeer Ball will be held on Sunday, December 8 at the Westin Convention Center Pittsburgh Hotel from 4-7pm. Dressed in their holiday finest, guests will mingle with some of their favorite holiday characters and storybook friends, and be treated to a sensational musical produced by Emmy Award-winning, New York City-based entertainment company RWS & Associates. The evening culminates with the arrival of jolly old St. Nick himself – Santa Claus! Photo by Annie O'Neill Photography
Guests will enjoy holiday craft making, balloon and caricature artists, and will savor dinner from delectable buffet stations that are suitable for the entire family. Proceeds benefit Pittsburgh Mercy's programs and services for individuals, families and children. Please call 724-934-3538 for more information or to purchase tickets online visit: https://secure.acceptiva.com/?cst=b170e5
We Gratefully Acknowledge our Sponsor
Become a Sponsor
If you or your organization would like to become a sponsor please complete our simple form and we will contact you.