The Auction Has Closed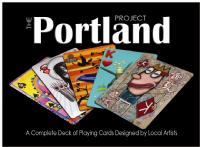 Fifty-four Portland area artists were challenged to transform an ordinary deck of playing cards into a showcase of the extraordinary and diverse artistic talent in our community. Each artist took their assigned playing card, reimagining it in their own unique style. The result is an amazing, fully playable deck of cards … an art gallery you can hold in your hand.
The original artwork used to create the Portland Project Deck will be sold here with 90% of the proceeds of each sale going directly to one of over 25 non-profits selected by the artists. The other 10% of the selling price will cover the charges for using this platform for the auction.
The online auction concluded Saturday May 22nd at 5pm.
For the latest updates, to meet the artists, or to learn where you can buy your own Portland Project Deck, visit our Facebook Fan Page at
www.facebook.com/artinhandpdx.
If you have any questions about the auction, or about the Portland Project in general, connect with us by clicking on the "Contact Us" link at the bottom of the page.
Thanks to our current friends and partners for supporting the Portland Project ...