Reid & Fiorentino Call of the Game Dinner & Celebrity Golf Classic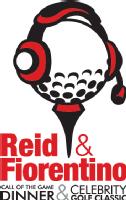 Bid on a fantastic selection of travel packages, sports memorabilia, tickets to events, restaurant experiences and much more! At the heart of our events are two charities, Lauren's Kids and the Dade Schools Athletic Foundation (DSAF). Both charities benefit from the net proceeds of the Reid & Fiorentino events.
The online bidding will close Friday, March 8 at 5pm. Bidding will continue in our silent auction on Saturday, March 9. If you cannot attend, you can place a Max "Absentee" bid on an item and our staff will proxy bid for you at the event.

For more information about the event, please visit: www.reidandfiorentinoevents.com
Proceeds to Benefit:
Lauren's Kids is a Florida-based organization aimed at preventing child sexual abuse and healing survivors through education and awareness. The organization, headquartered in Aventura, Florida, was started by Lauren Book, M.S. Ed., a survivor of childhood sexual abuse who endured abuse at the hands of her nanny for six years. Lauren's Kids received $1.5 million from the Florida Legislature to develop and implement the state's first-ever sexual abuse prevention curriculum called Safer, Smarter Kids. As of May 2012, seven school districts have implemented the six-week curriculum. The remaining school districts are reviewing the curriculum and planning implementation during this school year.We know that 95% of sexual abuse is preventable through education and awareness. Her organization offers a 24-hour crisis hotline, an annual awareness walk and speaking engagements. For more information, visit laurenskids.org.
The Dade Schools Athletic Foundation is a 501(c)3 created in 1994 through the Miami Dade County School Board to allow the private sector to support and augment the athletic programs in the Miami-Dade County Public School system. Miami-Dade schools operate their athletic programs with very few actual tax dollars with the majority of funds being raised by the principals, athletic directors and coaches. Every school has been forced to eliminate programs and severely restrict the number of students who can participate in athletics at every level.
Funds raised by the Foundation are passed on directly to Dade County public high schools as well as middle school athletic programs to provide grants for the purchase of equipment, uniforms, and training aids. In addition, the DSAF annually provides scholarships for outstanding student-athletes.