Alas, Our Auction Is Closed!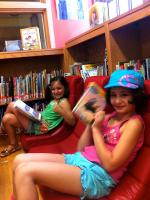 The Save The Neighborhood School Library! auction is now closed. Thank you all for taking the time to point, click and bid to support The Neighborhood School (P.S. 363) and help us keep our beloved library and librarian. Congratulations to everyone who:
placed a winning bid

donated an item for auction

invited family, friends and community to make a bid to help save a New York City public school's endangered library.
You can still donate to save the library on the right of this page or at our school's web site. Thank you, from everyone in our community.