Auction Ends: Mar 1, 2016 09:00 PM EST
Bidding, fun and fabulous items... a unique way to support a great cause!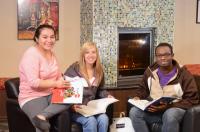 Starting on February 19, 2016, the South Central College Foundations will be auctioning off a number of fun and unique items to bid on to raise money to benefit the education dreams of our students.
We are asking for your help to secure fabulous items for the 2016 event that will run from February 19 through March 1st. Do you have item that would be a great addition?

Show your support by clicking on the "Donate Items" button to contribute to our catalog. By donating an item or service directly online, you'll be helping to raise money for our organization, and you'll receive a mention on our site that can link back to your own web page.
Thank you to our 2016 Auction Sponsors!