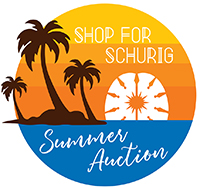 Bidding has ended for the...
"Shop for Schurig" Auction
Thank you to all who participated!
Miss out on the bidding?
You can still help improve lives!
The auction has closed, but you can still help by donating to Schurig Center today. To donate online, click the "Donate Now" link on the right side of this screen or visit SchurigCenter.org. Gifts of all sizes provide hope and healing. Thank you.
You help people stay healthy and connected!
While our clients are at home, our services remain open and are being offered remotely.
Schurig Center is pleased to offer this array of items for your bidding pleasure. We are deeply grateful to the many donors who contributed these items in support of our Annual Gala, which was cancelled due to the pandemic. We hope you enjoy bidding on them!
With your auction purchase or Fund-A-Need donation, you provide the only place in our area picking up where the healthcare system leaves off to help people thrive after a brain injury, like TBI, concussion, stroke, aneurysm, tumor, lack of oxygen, accident, and other causes.
Although we do not know what the coming days may hold, we do know that your generosity is the reason we are able to still provide services. Our programs are being offered in a new way, but the cost to provide them has not changed. And, with 70% of clients living on low income, we rely on community support to be able to offer care to all who need us.
If you are in a position to help, please bid as generously as you can.
Thank you!