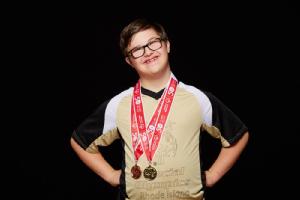 Special Olympics Rhode Island is getting ready for their 2019 Holiday Auction!
Starting on December 1st at 10:00am and ending on December 8th at 10:00pm, Special Olympics Rhode Island will be auctioning off a number of fun and unique items to raise money for our organization - and the more items we have the more money we can raise, so we're asking for your help.

Please help us and show your support by clicking on the "Donate Items" button to contribute to our catalog and give the gift of JOY this Holiday Season! Imagine bringing courage, strength, success, self-confidence and radiant triump to one of over 4,000 Special Olympics Rhode Island's athletes. By making an in-kind donation of an item or gift certificate, you can do just that!

Give a little and get a lot in return.
We're in the process of putting together items (sports memorabilia, gift certificates, tickets to events, overnight stays at hotels, etc.) for the 2019 Holiday Auction and your participation is an invaluable part of our fundraising efforts.
By donating an item, certificate or service directly online, you'll be helping to raise money for our organization, and you'll receive a mention on our site that can link back to your own web page.
All auction proceeds will go to support than 1,600 sports training and athletic competition events for more than 4,000 children and adults with intellectual disabilities. Special Olympics envisions a world in which people with intellectual disabilities lead healthy, vibrant lives grounded in ongoing sports and physical activities, sound nutrition and a deeply held commitment to improve, compete, achieve and demonstrate their personal best to themselves and their communities.
Holiday Auction Donor Fact Sheet
Benefits of donating an item/certificate:
Valuable exposure simply for donating an item/certificate to our online auction, far beyond that of a traditional in-the-room auction. Your logo and description of your donation will be included on the auction website from Dec. 1st to Dec. 8th.
Great way for you to achieve widespread visibility by tapping into an engaged, active community to promote your own company, products and services.
Your company/business name will be listed in the sponsor recognition segment of our Holiday Auction Preview Show that will air on OSN (Ch. 5 & Ch. 1005 on Cox) on Nov. 30th at 4pm & 8pm and again on Dec. 7th at 7:30am and 8pm promoting the event. (To be included in the Preview Show Sponsor Roll, donations must be received by November 11th.)

Holiday Auction Preview Show will broadcasted on OSN to more than 500,000 potential viewers in Rhode Island, Connecticut and Massachusetts.
Ability to reach an additional 450,000+ affluent & cause-minded online bidders through "Bidding for Good, our online auction website.
Special Olympics RI social media outlets will add an additional 8,000 potential bidders on Facebook & Twitter and another 14,000 individuals via our email database.

Opportunity to make a difference in the lives of more than 4,000 children and adults with intellectual disabilities.

Association with an organization with a favorable public image that provides important services to individuals with intellectual disabilities and their families.
100 percent of the proceeds go directly to support more than 1,600 sports training and athletic competition events for our athletes.

Federal Tax ID: 05-0377867 and State Tax ID: 2256