Featured Sponsors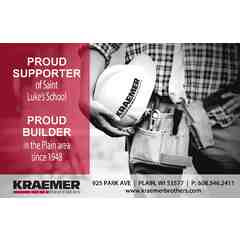 Kraemer Brothers, LLC
Auction Links
St Luke School is getting ready to run an online auction fundraiser.
Starting on February 24, 2023, St Luke Gala will be auctioning off a number of fun and unique items to bid on to raise money for our organization - and the more items we have the more money we can raise, so we're asking for your help.

Show your support by clicking on the "Donate Items" button to contribute to our catalog.

Give a little and get a lot in return.
Whether you have 1 item or 100 to contribute, your participation is an invaluable part of our fundraising efforts. By donating an item or service directly online, you'll be helping to raise money for our organization, and you'll receive a mention on our site that can link back to your own web page.
Live Event Details
Sat Mar 11, 2023
5:30 PM - 8:30 PM CST
Dorf Haus
8931 County Hwy Y Sauk City, WI 53583
Add to My Calendar
Get Directions
St Luke's 6th Annual Gala is a casual night of food, drinks, music, and live & silent auctions.
6:00 - 6:30 - Cocktails, music & bidding
6:30 - 8:00 - Dinner
8:00 - 9:00 - Auctions, raffles, music and more
St. Luke School is proud to have been in the Plain community for over 145 years. Our Home & School Committee is a parent-run organization that supports the school in a variety of ways, including supplementing the budget. Thanks to fundraisers such as this we are able to help keep the cost of tuition lower for our families. Please know that any donation is greatly appreciated.
Become a Sponsor
Place your company's logo on our site that links back to your own web page and you could develop new business. We can track how often your logo is viewed and clicked to see just how many people are accessing your site.