Donate Cash
Auction Links
Top Bidders
kindhearts

$5,500

ah1efd091

$5,000

Meldlewis

$2,100

jhd98b896

$1,800

Help1another

$1,000

dazdat

$800

ar42bc30d

$600

kn4ae34cb

$500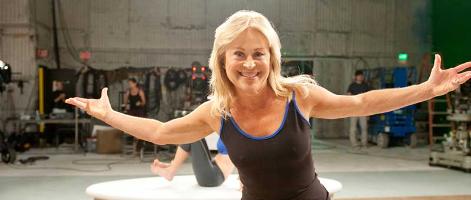 MARI WINSOR, "QUEEN OF PILATES" NEEDS SUPPORT
WHY SUPPORT MARI WINSOR?
Every 90 minutes, someone is diagnosed with ALS.
In 2013, Mari Winsor, lovingly known ib the fitness community as the "Queen of Pilates" was diagnosed with ALS (Amyotrophic Lateral Sclerosis), often referred to as Lou Gerhig's disease.
In November 2016, Mari underwent a tracheostomy. She is currently on full time ventilation to breathe and is fed through a gastric tube. This requires 24/7 homecare from a registered nurse and the out-of-pocket cost of homecare is $12,000 a month. Home healthcare is NOT covered by insurance.
Mari Winsor, who ran two studios one West Hollywood and one in Santa Monica, spent her entire career sharing her wisdom and helping people stay fit and healthy nationally and internationally. Today, she is in the final stages of ALS, unable to move, breathe, speak, or eat on her own. But she is determined to live and YOU can help.
This auction in Support of Mari Winsor is filled with unique, one-of-kind items and experiences, donated by those who love Mari: her A-list clients, friends, family, and the Pilates community at large.
Funds raised in this auction will go directly to a healthcare trust fund set up for Mari and the monies will be distributed specifically to cover her out-of-pocket healthcare needs.
It costs $250,000 a year to provide the care ALS patients need.
Take a look at the items in the Support Mari Winsor auction. Tell you friends.
If there is nothing you want to bid on then please click here to make a gift directly to the Mari Winsor Healthcare fund.
Make Your Bid to Support Mari Winsor - Check Out These Featured Items!
Now is your chance to win all the great items you want while supporting an icon in the fitness world fight the devasting disease - ALS. All the money raised from this auction will go towards the healthcare costs NOT covered by insurance (the 24/7 homecare).
Thank you everyone for your support and HAPPY BIDDING!!!!