Join us for Sweet Serenade October 16th!
Join us for Sweet Serenade, Samohi Choir's biggest annual fundraising event and the first concert of the year! Celebrate our students and help fund our incredible choral music program.
This concert event will be Saturday, October 16th at Santa Monica High School, and tickets are on sale now!
Our online auction will open October 16th and be open for bids through November 7th. We hope you will support our fundraising efforts by sharing, browsing and bidding!
AUCTION OPENS OCTOBER 16
Live Event Details
Sat Oct 16, 2021
6:30 PM - 10PM PDT
Santa Monica High School
601 Pico Blvd., Santa Monica (entrance on 7th St. and Michigan Ave)
Add to My Calendar
Get Directions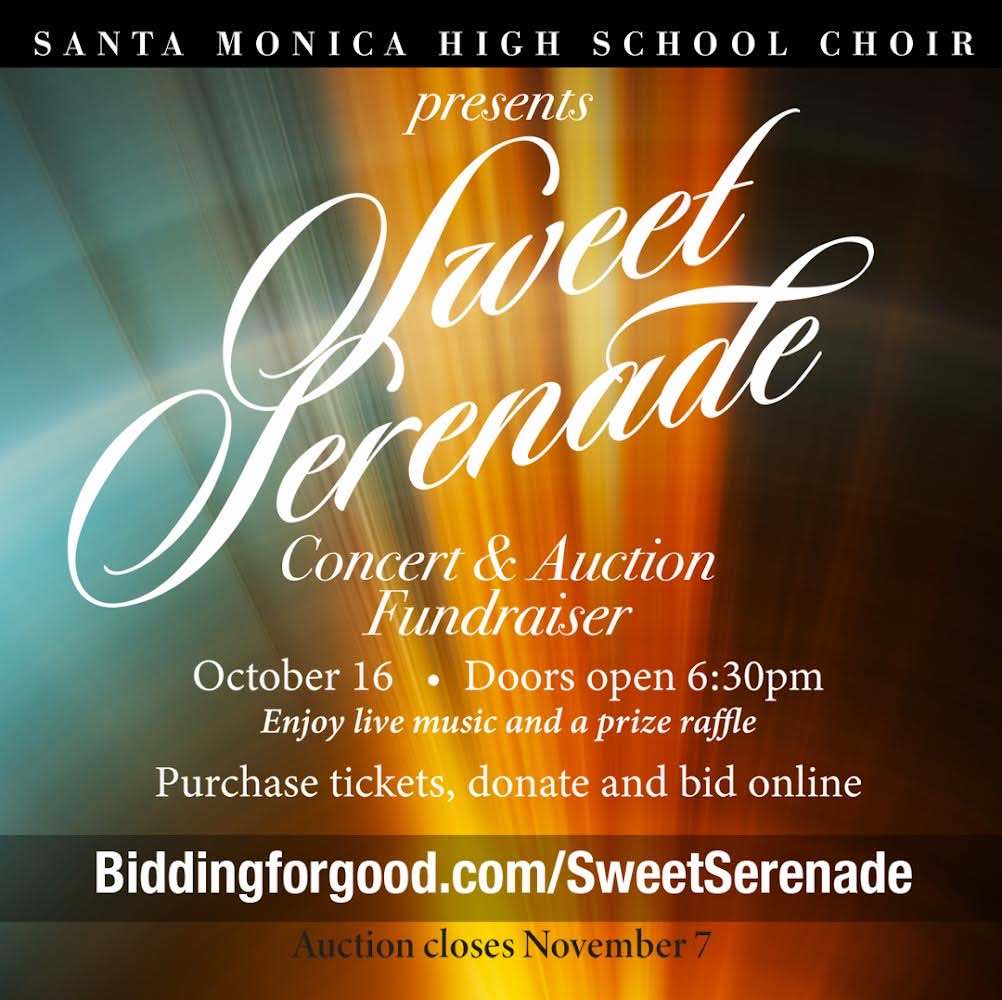 TICKETS FOR THIS EVENT ARE SOLD OUT. THANK YOU!

We are so excited to have the opportunity to enjoy live music together again! In order to keep this event and our guests safe, please help us by observing all safety guidelines and requirements. Please note that no food or drink is allowed at this event.
Please note that COVID safety protocols will be observed. All guests will be required to wear masks at all times while on campus, all guests 12 and over will be required to produce proof of vaccination OR a negative PCR test within 72 hours, and we will be utilizing contact tracing precautions (more details available by clicking "more info" on the ticket page).
Parking information will be posted as soon as we are able.
Performers do not need tickets.
Now accepting auction items
If you or someone you know owns a business and would be willing to donate goods or services for our auction, please contact us.
We rely on the geneority of local businesses and community members to make our auction a success, and we love to publicly thank them for their support!
We will continue to add auction items until the auction closes.
Auction opens October 16th.
Visit our auction beginning October 16th to bid on these and other great items!