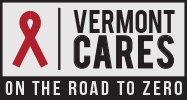 Join Us on March 6th at the Champlain Conference and Event Center
For the 28th Annual Live & Silent Auction to support HIVE services, prevention and education.
VERMONT CARES Annual Gala: Live and Silent Auction is back again!
On March 6th, we will be auctioning numerous items provided by local and corporate businesses who have shown their support for Vermont CARES with donations of travel, dining, art work, Vermont handmade wares and much more. The funds raised will support HIVE prevention and harm reduction activities around the state - and the more bidders we have the more money we can raise. New items are being added every day thanks to our generous donors!
We are proud to announce WCAX Channel 3 as our media sponsor. Their support of this keystone fundraising gala helps us to raise awareness about HIVE prevention, services and advocacy. We are so grateful.
Live Event Details
Order Tickets
Fri Mar 6, 2020
7PM - 10PM EST
The Champlain Conference and Event Center
375 Maple Street Burlington, VT 05401
Add to My Calendar
Get Directions
Tickets are $30. Students will recieve a discount ticket price for $20.
When you "Order Tickets", you will be prompted to register an account. This will allow for ticket purchases and will streamline your experience for mobile bidding, check-in and checkout the night of the event. If you prefer you can Theresa email theresa@vtcares.org or call 802-748-6802 to reserve tickets or purchase at the door. If you are a student email for your discount code.
What you can look forward to this year:
Vermont CARES clients share their stories with you on the stage

Emcee Darren Perron, WCAX Channel 3

Music by Trio Gusto

Light hors d'oeuvres

Professional auctioneer, Travis Hall

Staff & volunteer recognition

Most importantly, help us raise into the light the continued need for awareness about HIV prevention, substance use support and overdose prevention and education.
We have a goal of raising $25000.00 this year!!We serve thousands of Vermonters affected by HIV or at risk of HIV each year. Our programs support housing, transportation, nutrition, social needs, advocacy, free HIV testing, education in schools and extensive harm reduction programming for those experiencing substance use.
We have offices in Burlington, Montpelier, Rutland and St. Johnsbury and a mobile prevention van that allows us to work in communities throughout the State.
Every dollar raised will go to fund these necessary, free services to all who need them.
Donate an Item
Give a little and get a lot in return.
Whether you have 1 item or 100 to contribute, your participation is an invaluable part of our fundraising efforts. By donating an item or service directly online, you'll be helping to raise money for HIV prevention, education and care, and you'll receive a mention on our site that can link back to your own web page.
Show your support by clicking on the "Donate Items" button to contribute to this cause.